Guardians
Guardians must be at least 18 years old and no more than 70 years of age and be able to handle the physical requirements of traveling with a Veteran.
We encourage family and friends to travel with a Veteran as their Guardian. Generally, a family guardian must be at least one generation younger than the Veteran they will accompany on a mission.
Spouses are unable to be Guardians.
Since many Veterans may not have a family or friend travel with them as a guardian, we have a great demand for others to participate as a guardian of a Veteran.
All Guardians are asked to contribute $500 toward their own Honor Flight expense, payable immediately upon notification of selection. Guardians must attend a mandatory training session prior to their flight.
Please find the online fill-in Guardian application form below, once you have completed the mandatory signature page.
PLEASE NOTE: We have a waiting list for Guardians and limited spots available. If you submit a Guardian application and do not have a family/friend Veteran to escort, please be patient. You will be contacted by an HFO staff member when you've been selected to go on a flight. Thank you for your patience and thank you for your support.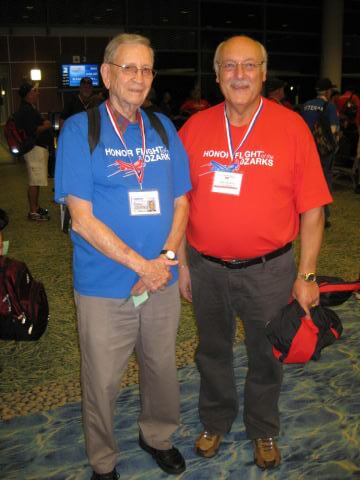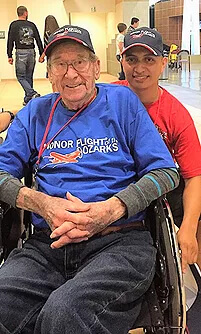 One Guardian's Experience
Sgt Lorenzo Valdivia, USMC Fort Leonard Wood, MO
Sgt Vadivia is attached to Military Police Instruction Company as a instructor for the Marine Corps Military Police School.
On August 25, 2015 I was given an opportunity I will never forget. On July 29, 2015 I received an e-mail that stated "Dear Guardian, the Board of Directors has reviewed your application and you have been approved and accepted for the Honor Flight that will take place on August 25, 2015." This began an experience that not only impacted me but also allowed me to partake in an amazing day that touched many including myself. The first step was to raise the funds needed to attend the flight. I created a fund raising page not really expecting to raise much. Little did I know how blessed I was.
read more
Honor Flight August 27, 2019
By Linda Tucker, Guardian for her Father, Veteran Bobby Wixson
I just returned from the most recent Honor Flight. I attended as a Guardian for my Dad, Bobby Wixson. I was very impressed with the organization and the process during the entire trip. The staff, organizers, volunteers and everyone associated with the trip did a great job. The trip is a difficult one, the day is long, the agenda is full, emotions run a full and variant gambit. Yet, the one constant was that the participants could depend on the Honor Flight Team to always be knowledgeable, organized, and ready to help. Everyone I met (and I mean literally, without exception), treated us with kindness, respect, maintained a great sense of humor, and was helpful in all things. From the escorted bus rides to the meals provided, it was all done well. Hats off for a job well done.
I found the participation of young people, community groups and citizens at the homecoming event to be exceptional. I did not expect the reception we received. It was quite moving for me to feel the gratitude from the crowd for our Veterans at the Springfield airport. The person responsible for communication and organization of this event did a great job. Once again, hats off for a job well done.
​​The volunteer guardians that accompanied the Veterans that did not have family members as Guardians were amazing. I have so much admiration and respect for those that would travel such a difficult trip to assist a total stranger. The Guardians "serve" the Veterans, who had sacrificed and served our nation in their capacity in the armed forces. Once again, hats off for a job well done.
​​I am thankful to have participated in this event and will always treasure the time I spent with my father and the other Veterans as they revisited their time in the service during the honor flight trip. It was a day not to be forgotten. Hats off for a job well done!
​​P.S. Thanks for my Honor Flight Hat
​​Sincerely,
​​​​Linda Tucker
You can also request more information with this form: