Guardians
Guardians must be at least 18 years old and no more than 70 years of age and be able to handle the physical requirements of traveling with a Veteran.
We encourage family and friends to travel with a Veteran as their Guardian. Generally, a family guardian must be at least one generation younger than the Veteran they will accompany on a mission.
Spouses are unable to be Guardians.
Since many Veterans may not have a family or friend travel with them as a guardian, we have a great demand for others to participate as a guardian of a Veteran.
All Guardians are asked to contribute $500 toward their own Honor Flight expense, payable immediately upon notification of selection. Guardians must attend a mandatory training session prior to their flight.
Please find the online fill-in Guardian application form below, once you have completed the mandatory signature page. If you prefer to fill out a paper application, please click here to open and print a PDF version of the application. Please then mail the form back to Honor Flight of the Ozarks.
PLEASE NOTE: We have a waiting list for Guardians. You will be contacted by an HFO staff member when you've been selected to go on a flight. Please be patient, guardians may wait approximately 12 months before being selected. Thank you for your patience and thank you for your support.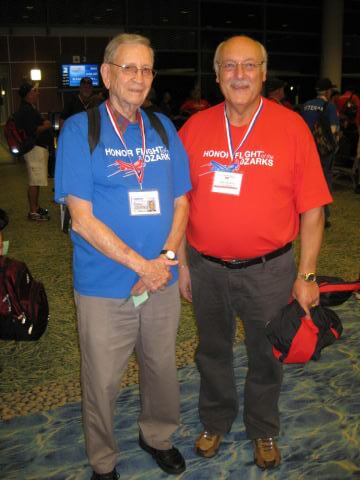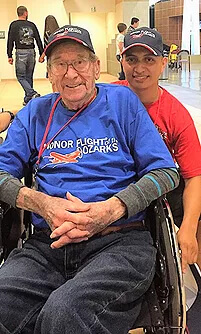 One Guardian's Experience
Sgt Lorenzo Valdivia, USMC Fort Leonard Wood, MO
Sgt Vadivia is attached to Military Police Instruction Company as a instructor for the Marine Corps Military Police School.
On August 25, 2015 I was given an opportunity I will never forget. On July 29, 2015 I received an e-mail that stated "Dear Guardian, the Board of Directors has reviewed your application and you have been approved and accepted for the Honor Flight that will take place on August 25, 2015." This began an experience that not only impacted me but also allowed me to partake in an amazing day that touched many including myself. The first step was to raise the funds needed to attend the flight. I created a fund raising page not really expecting to raise much. Little did I know how blessed I was.
read more
You can also request more information with this form: