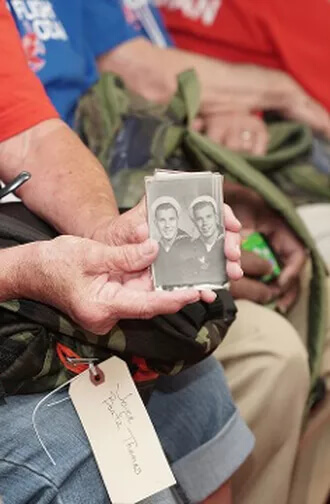 Contact Us
Email Us
Mail
Mailing Address (Please mail all correspondence to this address)
PO Box 3964 Springfield, MO 65808-3964
Phone: 417-268-9052
Drop Off
Honor Flight of the Ozarks Office Address (To drop off letters or applications. Please do not send mail to this address)
2200 E. Sunshine St. Suite 204 Springfield, MO 65804
Frequently Asked Questions
WHAT IS HONOR FLIGHT of the OZARKS?
We are a non-profit organization in Springfield, Missouri. The founding members have assembled the talents and commitment of a group of people who share their love and respect for our veterans, dedicated people who are working to deliver on the promise of Honor Flight. Learn more about the history of Honor Flight in other parts of the country by visiting the Honor Flight Network.
HOW MUCH DOES IT COST?
There is no cost of the veteran. The all-expenses paid trip is our gift to the veteran who gave so much for us.
HOW ARE YOU FUNDED?
By public donations.
DO YOU DO ANY OVERNIGHT TRIPS?
No - all our trips are one day excursions.
I HAVE A MEDICAL CONDITION OR I NEED A WHEELCHAIR - CAN I STILL GO?
Yes, but you must completely disclose information on your application. Please inform us of all your medical conditions, special medical/medicine needs and mobility. You must inform your doctor of the rigors of the one day trip to Washington, D.C., and get his/her permission for you to participate.
CAN MY HUSBAND/WIFE GO WITH ME?
No. At the present time, we have many veterans on the waiting list and hundreds more who will apply. It is doubtful that we will get to every deserving veteran in time. Already we have had some veterans pass before being able to make the trip. Many more may be lost before being able to make the trip. The only spouses permitted to go are those who are veterans themselves.
HOW DO I APPLY AS A VETERAN?
Honor Flight of the Ozarks recognizes you, an American Veteran, for your sacrifices and achievements by flying you to Washington, DC to see your memorial at no cost. Top priority (for which we are currently accepting applications only) is given to World War II, Korea, Vietnam, Desert Storm/Shield and terminally ill veterans from any era. This application is for a flight from Springfield, Missouri only.
I AM NOT A COMBAT VETERAN. AM I STILL ELIGIBLE?
Any Veteran who served in the military during above dates is qualified. Combat not a requirement as other service personnel were essential in supporting the wars. Congressionally Approved Dates:
WWII: Dec 7, 1941 to Dec 31, 1946
KOREA: Jun 27, 1950 to Jan 31, 1955
VIETNAM: Feb 28, 1961 to May 7, 1975
DESERT SHIELD/STORM: Apr 7, 1990 to Aug 2, 1996
WHERE DO I SEND MY APPLICATION?
-When you have filled out the form mail it to: Honor Flight of the Ozarks PO Box 3694 Springfield, MO 65808-3694
HOW TO I CONTACT HONOR FLIGHT of the Ozarks?
Donations and letters may be sent to: Honor Flight of the Ozarks PO Box 3694 Springfield, MO 65808-3694 417-268-9052
WHAT IS YOUR REFUND POLICY?
Honor Flight of the Ozarks is a charitable organization and our policy is to not give refunds on the donations we receive. However if you feel you have made a mistake in your donation please feel free to contact us. We will endeavor to work with you to correct any such error.
HOW DO I DONATE TO HONOR FLIGHT of the Ozarks?
Thank you for considering a donation to Honor Flight of the Ozarks. We need your support to continue our mission. With more World War II, Korean, and Vietnam Veterans waiting for their trip than ever, we have a daunting task ahead of us. We could not go on without those of you willing to help with your donations. We thank you for all you do for our deserving Veterans. You may make a donation by sending your check or money order to: Honor Flight of the Ozarks PO Box 3694 Springfield, Missouri 65808-3694
HOW TO I APPLY AS A GUARDIAN?
In order for Honor Flight of the Ozarks to achieve this goal, guardians fly with the veterans on every flight providing assistance and helping veterans with a safe, memorable and rewarding experience. For what you and your comrades have given to us, please consider this a small token of appreciation from all of us at Honor Flight. There is a $500 guardian fee which helps pay for the flight.
HOW DO I VOLUNTEER TO HELP?
Without the support of volunteers, there's no way that we would be able to fly our heroes to Washington, DC to see the memorials created in their honor. Examples of volunteer positions include being at the airport to send off the veterans in the morning and then being there at the end of the trip to welcome them home with a cheering reception; office help with answering phones and entering application info into the data system; mailing out of requested material and purchased merchandise; contacting veterans and guardians and making arrangements based on our projected flight schedules. If you would like to volunteer your services, please contact us and join us making the dreams of our veterans a reality. You can make a difference. If you need more information, please contact our Volunteer Resources coordinator Steve Bach at. Thank you for your support.