Honoring Yesterday's Heroes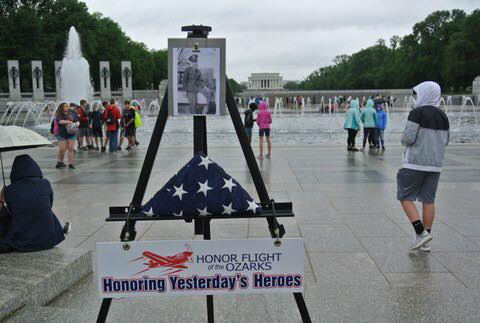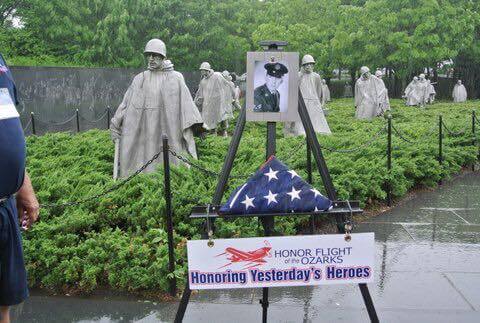 Honoring Yesterday's Heroes was created to honor those Veterans who are unable to visit their memorial(s) in Washington, D.C. (WWII, Korean, Vietnam). The program is open to all Veterans who served on active duty, regardless of the duty assignment or location in which the Veteran served. To participate in Honoring Yesterday's Heroes, please submit a 5x7 photograph of the Veteran (preferably in uniform) during the time of his/her service. However, other photographs are acceptable. Photographs may be original or a copy. Honoring Yesterday's Heroes Application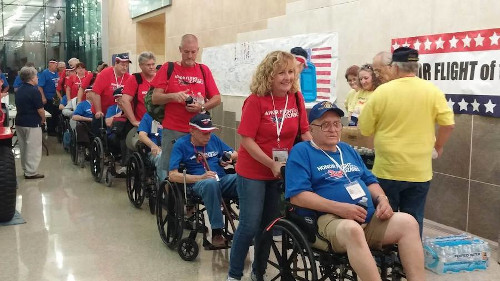 Honor Flight of the Ozarks received over 65 NEW and used wheelchairs to use in Washington, and enough used wheelchairs to help us transport our Veterans to the airplane prior to departure.
Many many thanks to the generosity of our many donors and to Springfield-Branson National Airport for providing storage space for the wheelchairs. We are so grateful for your support!
We need your continued, generous financial support to fund three flights this year. Our organizations wants to be transparent regarding your donations. We take pride that over 90 cents of every donated dollar is spent on flight expenses for our Veterans. Our personnel expenses account for only 1.5%, with the remainder going toward operational costs.

View the Veterans Wall of Honor
Springfield, Missouri is one of 140 established "hubs" in the national Honor Flight Network. We are not-for-profit, created to honor America's Veterans for their sacrifices.
Honor Flight is FREE to all WWII, Korean, Vietnam, Desert Shield/Storm, and terminally ill Veterans from any era. We want to fly every Veteran, who is able, to Washington D.C. Flights are scheduled from April to October to maximize good weather. We are currently accepting applications for our upcoming Honor Flights. The sooner you apply, the sooner you can fly!
How Can You Help?
Please be a part of our mission with your very generous donations. You can also help by referring us to schools, clubs, member organizations, and other interested donors.